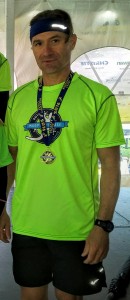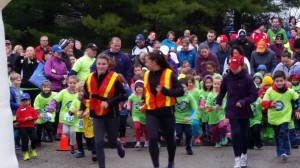 Running is a great sport to involve the entire family. I can't think of any other sport that allows you to play with others at the same time on the same playing field with others of all abilities and ages.  So it really is fantastic that you are taking the kids to hockey, to volley ball, swimming lessons, baseball practice and any other number of the 10 million activities they do each week. But wouldn't you just love to put down the phone and get out there with them? With running, you can!
Races are great fun. They have become family festivals complete with music, food, prizes, charities, you name it. You are too busy having fun to even notice that you are exercising. By far the vast majority of people racing are far from competitive athletes. They are your coworkers, your neighbours, your kid's teacher from school, everyday people who all wish to keep active the best they can.  It's completely OK to take 2 hours to finish a 5k. There will still be others behind you and you will still be cheered as you cross the finish line. The sense of accomplishment at that moment is enormous. And it should be. Its a celebration for doing two of the most important things you can do in life. Keeping active and teaching your kids how to keep active.
This Sunday, May 1st  Dr Charles and Dr Margaret enrolled ourselves and our 3 kids in the annual Mud Puppy Chase at the Laurel Creek Conservation area. The race is put on each year by the Rotary Club Kitchener Grand River. You can choose any race from 3km, 5km, and 10km and a 600m run for kids 6 and under (pictured top right). The race benefits KidsAbility Centre for Child Development and Rotary Children's Charities. This year post race food was provided by Borealis Grille and Bar which was fantastic and healthy. The volunteers were amazing, the courses were flat and safe, and the roads were controlled by Waterloo Regional Police. The 5k loop ran out of the park, onto Bearinger Road, along Westmount Road beside the University of Waterloo, down Columbia to Fischer Hallman Road and back to the park to finish. The 10k was double the 5k loop.
We had an amazing time bonding as a family, celebrating fitness, and building esteem. Looking forward to the next race!
Training Tip: to train with little ones you can use running strollers and/or visit local outdoor tracks to run loops with your children always within eyesight. There's great outdoor tracks at Resurrection CSS, St David's CSS just to name two. There are also indoor tracks during poor weather like the one at the Waterloo Memorial Recreation Complex. These tracks are generally free to use although some times may be reserved for special events or track teams. To find races we use RoadRaces.com for full listings across Ontario.